System Guides
Forms
Subcontractor Forms
Site Policies

Please click to view our site policies.
Helpful Resources
This Knowledge Base includes steps to check company compliance, search for and edit employees, run reports on competencies or work hours, and create users, among other helpful tips. This process can be completed in Onsite, the Pegasus software that powers the MACH Energy Contractor Management System.
The Business Rules specify the requirements of the documents you upload in the system. Ensuring your documents meet these requirements will save time and have you approved faster.
Complete and return this form if you have a new worker who is already registered to a different company in the system, and you need them added to your company. Workers can be removed from your company by an administrator directly in the system. Instructions on how to complete this process are available under the End Employment sub-heading of this page: https://kb.pegasus.net.au/display/OCCS/Person
Safety Management Information
Frequently asked questions

Please click to expand the FAQ below.

How do I know if I need to register in the MACH Energy Contractor Management System?
MACH Energy Mount Pleasant Operation contractors are currently required to register in the system. They must also ensure their employees are registered and have the correct inductions before coming to work on site.
Contractors at the Mount Pleasant Operation cannot work on site without being registered in the system.
What certifications must a contracting company hold to register in the system?
Public & Product Liability Insurance
Professional Indemnity Insurance
Statutory Workers Compensation Insurance

Does NOT have to state MACH Energy as an interested party

Contractor Works Insurance

If a commercial contract is in place > $500k

Motor Vehicle Insurance
Plant & Equipment Insurance
Company Operational Licences (air conditioning, electrical, plumbing and waste services)
How much does registration cost?
The costs outlined below are determined by the complexity and verification needed for your registration.
Category 5 AS/NZ4801 Certified: $220
Any of the categories below, but also AS/NZ4801 Certified
Category 4 High Risk: $770
Companies performing High Risk activities which include:
Installing scaffolding
Performing dogging and rigging work
Operating cranes or hoists
Performing lifting operations
Operating forklifts
Operation pressurised equipment
Category 3 Principal Contractor: $770                                       
A principal contractor is as per the definition in the Work Health & Safety Regulation 2011 (regulation 293), including routine work in an abnormal (or High Risk) work environment, example construction, or non-routine work.
Category 2 Routine Work: $550
Company performing routine work in a normal environment, including access to Construction or Mining areas (eg MACH Energy-engaged site supervisors, technical experts, consultants, minor work, or sub-contractors under a MACH Energy-appointed Principle Contractor).
Category 1 Office Based: $220
Companies restricted to office based work
Annual renewal for all categories is $110
What benefit does the Contractor Management System have for my company?
Registration ensures you are aligning to MACH Energy's Health and Safety commitments. The system is your opportunity to prove you have the systems, qualifications and competencies to work safely for MACH Energy.
Benefits include:
joining an online database of trusted and qualified businesses and workers
having higher quality work opportunities because you can prove you're fit to work
maintaining an online, portable profile
receiving electronic reminders to stay compliant and ready to work
having licences, competencies, inductions, and documents verified by qualified auditors and industry specialists
managing your own profile – roles, competencies, and training – in the Pegasus system at any time, 24/7
accessing a support centre of industry and software specialists if you need help reaching compliance or navigating the system.
enjoying a transparent cost model
Who do I contact if I have questions about the Contractor Management System?
Can I get a refund?
Payments made to Pegasus for the verification of uploaded insurances and licenses are final. We cannot refund any fees after the document verification process has begun. Please refer to the terms and conditions for more details.
What's a SMS review?
A SMS review is an independent desktop audit of your Work Health and Safety documents completed by a qualified WHS professional. The review will compare your information against legal and industry requirements to ensure your systems are meeting these obligations. You'll be contacted when the SMS review is complete and you are compliant in the system. If you do not pass the SMS review, we'll send you a corrective action report detailing the action we can help you take to become compliant. You will not be compliant unless your SMS has been approved.
If you can't complete the SMS review in one session, you can save your work and login later to continue from where you left off.
The documents you'll be asked to upload in the system depend on your category and may include, but are not limited to:
WHS / OHS Policy
Environmental Policy
Risk Management Procedures
Systems of Work process including incident management
Drug and Alcohol management
Emergency management
Training procedures including induction management
Sub-Contractor Management (if applicable)
Continual improvement processes
Useful links to help you with your SMS review:
What is AS/NZS 4801?
AS/NZS 4801 is the Australian and New Zealand standard for safety management. Updated in 2001 – referred to as AS/NZS 4801:2001 – this standard is the benchmark in assessing Occupational Health and Safety across management systems.
It is regarded as a discipline which guides organisations in developing and implementing policies and objectives that demonstrate a company's knowledge and control over hazards and risks present in its work environment. The internationally recognised standard is known as OHSAS 18001.
The responsibility of management in regards to the health and safety of their employees, business units, and output have increased due to changes with the introduction of the WHS Act in 2011. As a result, this has made it increasingly important for an organisation to implement a management system to comply with the necessary obligations.
Certified companies will have a certificate that bears one of the following 5 tick symbols.
A valid certificate will also have a JAS-ANZ stamp and only a document stamped in this way will be accepted.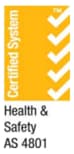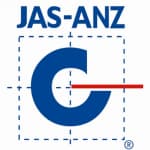 Benefits of AS/NZS 4801 Certification
The benefits of AZ/NZS 4801 Certification are that it:
Encourages a culture of safety in the workplace
Proves the affective implementation of an OH&S management system
Reduces the onset of workplace injuries, illness and incidents due to increased control
Enhances your company's reputation as a safe and reliable partner, contractor or supplier
Demonstrates strong commitment to ongoing improvement of safety performance
How do I register my employees to work for MACH Energy?
After you've registered your company to work for MACH Energy, you'll be invited to register your employees in the system, and book their inductions to work at the Mount Pleasant Operation.
Upon successful registration and at the completion of their inductions, your employees will receive MACH Energy ID cards which can be used to access the Mount Pleasant Operation.
Visit the Registration Process page for instructions.
How much does worker registration and training cost?
Registration costs  $75 + GST per person
Classroom inductions cost $15 + GST per booking
Online inductions cost $25 per booking.
Access ID cards cost $10 + GST per card (replacement cards cost $30 + GST)
Registration, induction bookings and card purchases are all completed in the system.
If I'm only a sub-contractor, do I still need to provide a SMS?
If you're a sub-contractor working under a Principal Contractor's safety management system, you must upload a Principal Contractor-approved Sub-Contractor Authority form. This form is available to download and complete under the Forms heading at the top of this page.
How do I find the Onsite ID number of my employee?
Onsite ID numbers can be found in Onsite. Follow the steps below, and contact Pegasus if you have trouble logging in to your account.
Step 1 > Using your MACH Energy Contractor Management System login details, click here to login to Onsite Track Easy >>.
Step 2> From the person tab, select employees.
Step 3 > You may now need to click change, select the employee, and save. If you do not see this option, proceed to Step 4.
Step 4 > In the Find field, enter the first OR last name of the employee and click search.
The employee's Onsite ID number will be displayed in the 'Id' column next to their name.
Can I fast track an application?
Yes, Pegasus offers an escalation procedure.
Pegasus understands that there are times when you'll need your data application or access ID cards to be processed faster than our standard delivery time of two working days.